The Tiwi Islands Employment and Training Board (TITEB) was created in 1994 as an initiative of the Tiwi Land Council. The Council had become concerned about the ad hoc nature of training the employment training being offered to Tiwi people and funded TITEB so that it could introduce a Tiwi focus to the provision of training, and deliver programs which might lead to real and lasting jobs for Tiwi people. These aims remain core to TITEB's business and working vision, and TITEB now provides a range of services and programs for the Tiwi people, including
As a Registered Training Organisation
As a Group Training Organisation
Delivery of Literacy and Numeracy training through the SEE program
Money Management
Delivery of the RJCP program, now called the Community Development program
School attendance program
TITEB is more than ever a key enabling organisation for the Tiwi people, with the potential to have a strong Tiwi board showing strong Tiwi leadership.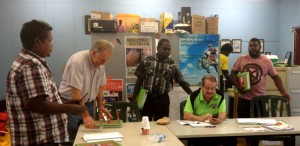 Our work with the TITEB board began with a request from the CEO Norm Buchan, as he attempted to provoke a general revitalisation of TITEB's board of directors. He was interested in carrying out a review of the board manual and policies, and taking advantage of any opportunities for mentoring of new board members as they were elected. Initial meetings and discussions would focus on this task of contacting board members and electing new members to positions of retiring members. Then after this, other governance work could begin.
In our first workshop with the board, we began with the question 'what is governance?' However, as the newly elected board members began to display their knowledge of Western governance language and practices, it became clear that they were all very well versed in the relevant terms and concepts. As members of other boards and organisations they had received training before and could recount to us issues and responsibilities around compliance, reporting and conflicts of interest. If it was training that we were there to offer, then it seemed that our students had little left to learn.
However, moving through these initial questions of ours, the TITEB Board members began to ask questions of their own. These were not to do with compliance or reporting, but were much more concerned with how TITEB's different programs related, and the ways that the Board could work to strategically guide and shape programs in ways that would benefit Tiwi people.
It was in response to these questions and concerns that Mike Harrison – the key facilitator carrying out this work – has been able to work with the board and TITEB management, setting out a plan for the development of a number of new board policies and a shareholders agreement for the company. In addition, the board have been interested in exploring the 'Tricker Model' (1994) as a way of carefully working with the dual needs of compliance and performance has been requested by the board as they look towards ways of steering the organisation in ways which are in tune with the needs and visions of Tiwi people.