Towards the end of the project we were asked to facilitate a workshop which focussed on leadership, governance, Tiwi Ways and Skin Group Meetings. By request of key Tiwi people that we had been working with, attendance at this workshop was by invitation only.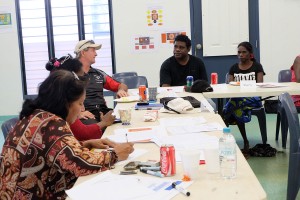 There was very specific work that this group wanted to achieve at the meeting. We were to develop a working group to help reconstitute the Tiwi Skin Groups meetings, and an action plan for how the group work with services providers to address current issues arising in the community.
During our discussions, the old Tiwi word Ngarukuruwanajirri was remembered by one of the female elders in the room. This word means 'four Tiwi skin groups coming together, helping together'. People were delighted with the re-emergence of this word which was not in common usage, and which some of the younger members of the group hadn't heard. There was recognition that this was a deep concept which was crucial to the work we were doing now.
We were told that to work through Tiwi Way, people have to first go through their skin groups for governance and governance issues. The governing structure of Tiwi is the four skin groups Warnarrtinguwi (Sun), Miyartuwi (Pandanus), Lorrila (Rock) and Takarringuwi (Mullet), and for Tiwi Way to be properly practiced, people have to work from the social responsibilities and obligations defined by these groups.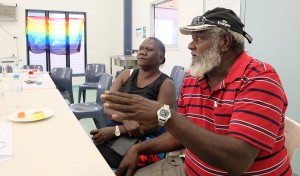 Re-establishing the Skin Group – or Ngarukuruwanajirri – meetings would allow people to speak from their proper cultural context when addressing issues about governance, leadership and mediation when working on community social issues. Recognising the Skin Groups as an organisation able to be engaged by other authorities and organisations, would also begin to update established but increasingly inadequate practices of seeking clan representation on councils and boards. While this approach to relating Western and Tiwi governance practices has supported clan representation within enterprise development, so far it has not enabled adequate Tiwi engagement with social issues in the community.
Convening the Ngarukuruwanajirri meetings provides a new way for the Skin Groups to participate within the variety of governance practices taking place in Wurrumiyanga, and also provides an opportunity for the teaching and modelling of Tiwi Way to Tiwi and non-Tiwi. As an organisation, the Ngarukuruwanajirri 's core function would be to articulate Tiwi Way and the Skin Group relationships, while nurturing and developing positive working partnerships between Tiwi people and traditions, and Western governance structures and service providers.