From the beginning of this project the Tiwi people at Wurrumiyanga raised the need for Tiwi Way/ Tiwi governance to be acknowledged and for the Ponki Mediation process and Skin Groups Meetings to be reinvigorated and re-established. When we talked to them about the project, they highlighted these concerns as their focus, which they continually reinforced as we worked together.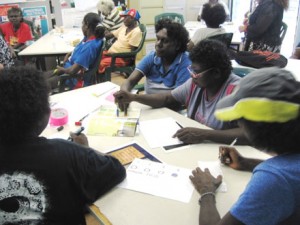 Tiwi understand the need to develop their learning and understanding about Western governance. But they also are committed to strengthening Tiwi governance/Tiwi Way to ensure its sustainability in future generations to come. They want to know, learn and understand how to ensure Tiwi governance is valued and can complement and work with western governance to maximise social outcomes for Tiwi people.
As we began to conduct workshops in Wurrumiyanga, There were many informal discussions and references made, to the constant expectations for Tiwi people to attend and engage with western service providers, structures, businesses and government agencies all of which privileged western ways of doing and western governance. They talked to us about the many service providers in Wurrumiyanga who are each pursuing their own individual and unique outcomes, operations and ways of doing which at times may not know how to include the Tiwi Way. In amidst this constant stream of visitors, the Tiwi are not afforded the regular opportunity to reflect on or discuss their cultural traditions, language, ceremony, skin groups, Tiwi knowledge or Tiwi Way. Therefore, the Tiwi who attended the community workshops were very appreciative and grateful of having the time to reflect, rediscover and reconnect with some elements of the Tiwi language, Tiwi culture and Tiwi Ways.
Tiwi understand the world they are living in is forever changing and there are many new challenges which they face which involves technology, social media, instant communication, addictive behaviours. In the old days the elders and the skin groups would play a central role to working through issues and resolving any conflicts or misunderstandings or misinterpretations. However, these days it is difficult for Tiwi people to be given enough time to breathe, and to constitute the proper groups and authorities who could deal with these issues in meaningful ways through proper processes.
This 'Tiwi Way' influenced and shaped the several workshops delivered to community members at Wurrumiyanga. The successful outcomes of the workshops were achieved using the tool of engagement and facilitation, the 'Rise UP Program' which has been developed by a local Aboriginal business (Tanyah Nasir Consulting Service). There were several community workshops for the men, women, Elders and young people. The discussions and learning was of significant cultural relevance, high energy, thought provoking and future focussed. At times the workshops were confronting as we discussed the Tiwi reality, their social, cultural, economic and physical environment. The reality they live and work within on a daily basis. However, the workshops were also stimulating, collaborative, full of learning and connectedness and full of hope. Tiwi people were motivated and inspired to challenge assumptions and expectations and felt empowered to consider solutions and change for their people, community and their future.
It was precisely by working in this way, and by reconnecting with traditional practice within modern and safe contexts, that people began to activate the potential for means for traditional practices to carefully update and rejuvenate themselves through engagement with new issues and concerns confronting Tiwi people.