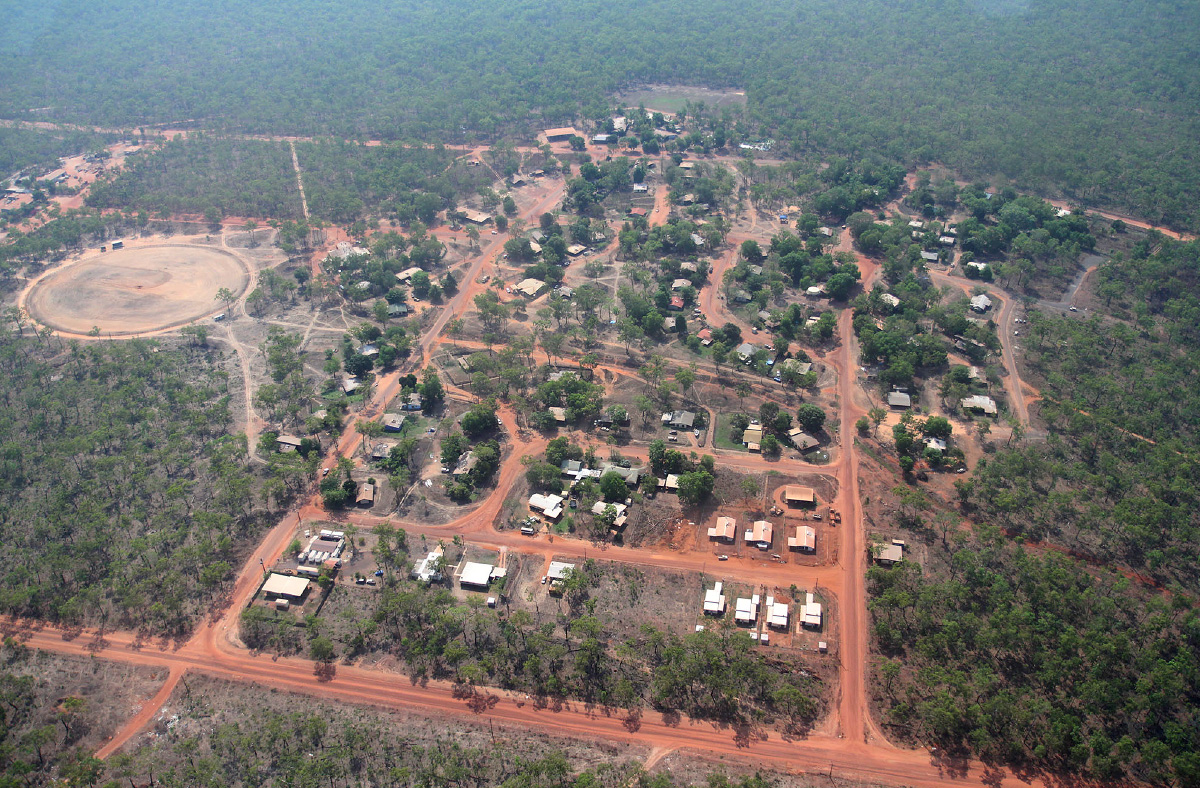 Ramingining township is remotely located in subtropical forest on the edge of the Arafura swamp in Central Arnhem Land, flanked on the west by the Glyde River and in the east, the Blyth River. The town is 35 kms south-east of Milingimbi Island. Darwin is 580 km to the east. The main Nhulunbuy Katherine road is 100 km to the south. Both roads linking Ramingining are considered for dry season four-wheel drive use only and Ramingining is often inaccessible by road during the wet season. There is an all-weather airstrip and majority of freight is delivered by barge to a landing 25 km away. At the time of the 2011 census, Ramingining had a total population of 833 comprising 766 Yolŋu with a median age of 25 years and 67 Balanda.
There are 14 Homeland Centres commonly associated with Ramingining: Bundatharri, Galawdjapin, Gattji, Gilirri, Gupulul, Mulgurrum, Walkabamirri, Garanydjirr, Maŋbirri, Naŋgalala, Yathalamara, Buyulkulmirr, Dipirri and Malnyaŋanak. Many are situated on the banks of lagoons and rivers. The population in each Homeland Centres varies, depending on a number of factors including seasonal and ceremonial.
There are 14 languages spoken across 14 clan groups in Ramingining and Homelands. The Bäpurru clan groups include: Malmurruŋu Warrkalan Bulurrbinda – Djadiwitji, Daltaŋu – Marraŋu, Daltaŋu – Nirriniŋ, Bulun'gurru – Mildjiŋi, Malibirr – Ganalbiŋu, Gupapuyŋu – Gaykamaŋu, Wambarrŋa – Djambarrpuŋu , Dhamarrandji – Djambarrpuŋu, Murruŋun – Gurralpa, Manarrŋu – Daymirriŋu, Lilipiyana – Liyagalawumirr, Durrurrŋa – Liyagalawumirr, Wanapuyŋu – Wagalak, Liyagawumirr – Garrawurra The main languages spoken are in order: Gupapuyŋu, Djambarrpuyŋu and Ganalbiŋu. People frequently speak several Yolŋu and other Aboriginal languages. English is also in common use, often as a third or fourth language.