Introduction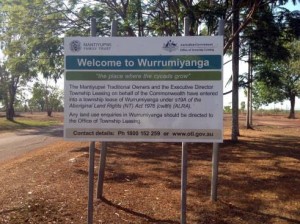 Work in Wurrumiyanga has been carried out differently across the two stages of this project. The first stage took the form of a consultation process where members of the local community sat down to discuss their concerns, interests and understandings of Western and Tiwi governance in Wurrumiyanga. The second stage is taking place as a series of workshops which couple community development and empowerment with an emphasis on the strengthening of governance and leadership capacities within the community.
Tanyah Nasir – Rise Up facilitator
I was invited to be the IGLDP worker on the ground at Wurrumiyanga due to my long experience working with Indigenous individuals and organisations in the past. I have worked with Indigenous people and Tiwi people across the Northern Territory over the past 30 years with an education, employment and training context. Recently I have worked with Tiwi people whilst delivering the TNCS Rise Up Program, Be Your Best, Own your Future, in Darwin and at Wurrumiyanga.
Even though I have family and cultural connections to some families at Tiwi, I undertake this project as an outsider however, I understand that my relationships will impact and influence how people respond to me.
I have been intentionally very broad in whom I talk to, as well as what I talk to them about, as this provides people with the opportunity to engage, connect, participate and feel valued and listened to. They are able to share their thoughts without judgment or repercussions. Beginning this project I took a "Tell Us the Story from your perspective … as a worker and as a community member" approach to opening up discussion and allowing people to discuss what they would like regarding governance and leadership.
Stage 1
Stage 1 of this project initially involved meeting with people (Tiwi and non-Tiwi) that I already had an existing personal and professional relationship with, seeking their advice, guidance and support on how to proceed, who I needed to talk to and how to move the project forward in an inclusive and respectful manner.
Local Tiwi people were happy to meet in their spare time to share their knowledge to help me understand the governance and leadership at work at Wurrumiyanga. At initial discussions the employment of local Tiwi people was highlighted as a way of developing and strengthening relationships and shared ownership of the project. Similarly, the people I spoke to were very committed to the development of their town and local Tiwi people and were very enthusiastic in advocating their own interests.
Everyone that participated did so willingly and has generously given their time to share their knowledge and perspectives. People are generally interested in the project and see it as a way of developing their understanding about governance and leadership and the current western structures and they also see the project as an opportunity to highlight Tiwi Ways/Tiwi Governance.
A major concern which kept being highlighted and referred to was the way in which Tiwi practices of decision making and ways of handling disputes and resolving conflict were not formally recognised or properly implemented in western governance structures. Responding to these concerns, Ponki Mediation and Skin Group processes offered a starting point for future discussions and workshops to be carried out as Stage 2 of the project.
Stage 2
The first set of workshops was held on the 11, 12 and 13th of November, 2014.
These workshops drew on a community development foundation, and worked to empower local Tiwi community members to share their knowledge and understanding about Tiwi governance and western governance and leadership, and to voice their concerns and aspirations in front of other community members. It was emphasised that the workshop was like a 'community' meeting – with everyone together, how it used to be. And this is what people feel is needed.
In preparing for the workshops a number of organisations in Wurrumiyanga were contacted and consulted with these included the TIRC, Local Authority, TITEB, Red Cross, PM and C and the NTG Department of Health as well as individual local Tiwi people.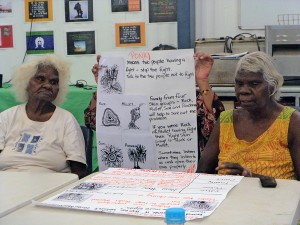 The purpose of the workshops was to discuss and unpack the following:
Identify and discuss the existing organisations, businesses and service providers at Wurrumiyanga
Local Authority
Tiwi Island Regional Council
Tiwi Way/Tiwi governance
Skin Groups
Ponki Mediation
At the same time, these workshops offer the opportunity for Tiwi people to begin 'driving' the agenda as the day unfolds. For example, in one of the workshops it was obvious that a community leader wanted to take advantage of and maximize the opportunity where his people were 'listening deeply' and were engaged with the topic and respectfully and tactfully steered the discussion to where he believed needed to be consolidated.
We initiated a number of exercises in which people mapped out and told their stories of both Tiwi and other forms of governance and leadership in Wurrumiyanga, including the many different organisations, councils and boards, as well as how each of these works and the roles that people adopt within them.
We then worked to extend understandings of the roles and functions of these organisations, the connections between them, and how local Tiwi could use them effectively to benefit Tiwi. There were a number of local leaders who were able to assist and guide this learning, while also modelling learning relationships between older generations and the youth.
Contact
For further information please contact Tanyah Nasir tnasir@westnet.com.au